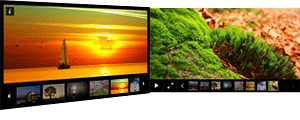 A super easy and slick joomla slideshow module to present your images on your joomla site.
Open your module, insert your photos with a "Drag / Drop" function and GalleryFP takes care of the rest. Thumbnails are generated on the fly. This is our GalleryFP module, the perfect presenter of portfolios, photos or art. Here are a demonstration of the module.
This joomla image gallery can be in any module position and is responsive. You can even put the GalleryFP in articles, with the [loadposition] command.
This joomla gallery works on all important platforms, including iPhone, iPad and Android mobile phones.
When using the GalleryFP, try to keep down the images sizes (in kilobytes) when using alot of images. It works with png-images, but it is not recommended.
This module is based on the jQuery slideshow "galleria" by Aino.